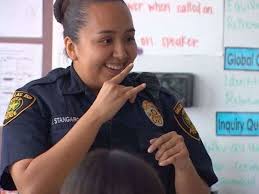 Length
2 hours
Enrollments
68
Modules
4
Rating

---
When accessing our online training, please make sure you are using the Google Chrome or Firefox browser, which works best with our courses. For issues regarding this site please contact the online help desk support at aacog.online@gmail.com or call 512-766-0659. To find out more about the AACOG Regional Law Enforcement Academy and the various in-service and licensing courses offered, please visit our web site at: www.aacog.com/academy.
COURSE DESCRIPTION: The TTY/TDD-Module One online course titled "The Overview" is designed as a refresher course to the initial classroom TTY/TDD Training to provide Telecommunication Officers with continuing education. The course covers basic TTY/TDD terms and questions and will test the student's knowledge of TTY/TDD by reviewing basic information learned in their TTY/TDD classroom training. The course is interactive with videos and evaluation instruments throughout the course to measure their understanding and ability to retain the information. Participants will have an understanding of situations encountered in an emergency communications environment and the basic skills necessary to process calls from those that hearing and/or speech disability in both emergency and non-emergency situations.
The Department of Justice (DOJ) says in order to comply with the American with Disabilities Act (ADA) concerning training for telecommunicators answering TTY calls, training should be done a minimum every 6 months. So, while the Act itself does not indicate every 6 months, DOJ is telling us how to comply with the law.
LENGTH OF COURSE: 2 Hour
TARGET AUDIENCE: Telecommunication Officers
PREPARED BY: Janice Washington
Course Prerequisites
No Ratings have been submitted for this course.